Understanding the mechanics of inbound lead generation

Things change. In many companies, Marketing and Sales departments used to be walled off from one another. First, Marketing would reach out to as many people as possible through advertising, direct mail and email, etc. Cold calls and spam emails were commonplace. And as soon as potential consumers showed interest in the company, they were immediately passed off to the Sales team to handle the rest—and hopefully close the deal.

Those days are long gone. Consumers have grown weary of email and other marketing strategies designed to attempt to sell them products they did not ask for. Instead, they are looking for an experience like what is offered through inbound marketing; one that meets them where they are - offering products and services they actually want and solutions to problems they really have.

How Inbound Marketing Works
Inbound marketing can combine the functions of marketing and sales, allowing them to work together to turn strangers into visitors, visitors into contacts, and contacts into leads, and eventually customers. Inbound marketing can enable your company to have a more complete understanding of a typical lead, or potential customer, to better determine how to present your services or products to them individually.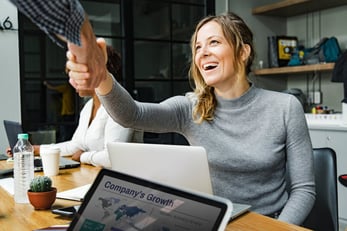 Markit360's inbound marketing strategy begins by defining audiences and then determining why they are looking for what you are offering, and creating timely, relevant content that attracts them to your company. By publishing the right content in the right place at the right time, your marketing messages will be received by your potential customers as helpful and informative rather than interruptive, which is a more effective and efficient way to cultivate leads.
The Value of Lead Generation
By showing an organic interest in your business, the potential customer is starting the relationship, not the business. This makes it easier and more natural to want to buy from you somewhere down the line. A study of 500 professional services firms showed that companies that generate 60% or more of their leads online are 2x as profitable as those that generate less than 20% of their leads online. Online lead generation occurs after you have attracted an audience. Lead generation takes potential customers and moves them onto the path toward a purchase for your sales team to deliver a closed deal.

If you're interested in learning more about how online marketing can help your company grow faster, download our ebook, "An Introduction to Lead Generation: A Beginner's Guide to Generating Leads the Inbound Way." This ebook will help you understand the mechanics of inbound lead generation and will walk you through steps to set up your first online lead generation campaign to convert visitors into leads, and leads into customers.